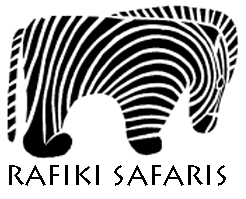 Authentic and Personal Safaris to East Africa
with Chris and Jim McLarty
Rafiki means friend in Swahili, and on a Rafiki Safari, that's just how we treat you: like a friend who has come with us to discover the authentic, magical Africa that most visitors don't even realize exists.

We have lived and worked in East Africa and have personally led safaris there since 1988. We plan each one as if we were still living there, welcoming friends who have come to experience the best. Naturally, we want to show you more than what you'd find on a standard trip to Africa! We'll get you off the tourist loop and away from the overdeveloped, flashy, or big lodges and camps. We know about the intimate camps in the best wildlife areas, both in the parks and on private preserves. We also have private camps set up especially for us. And when it comes to Africa, we plead guilty to seeking out the romantic and evocative.

Because we also operate Rafiki Books - a specialized mail-order book company that is the single best place in the world to find Africa-related titles, if we do say so ourselves - our trips attract really interesting, and interested, people. Many times members of our group have a special knowledge, and we encourage them to share it with the rest of us. Along the way, we are also frequently joined by some of our African author friends. On past safaris we have lunched with Kuki Gallmann, gone on an early-morning rhino count with Anna Merz, and met with many other friends, by chance and by luck.

If you want to get the feel of Africa, walking is an essential part of a safari. That's why, at most of our stops, you will be able to go on guided nature and bird walks. We have a special interest in the birds and are always ready to lead a walk.

Both of us are also professional photography teachers, so we really enjoy helping you get the best photographs of the exciting and beautiful places and incredible animals you'll see.
Rafiki Safaris are the Right Track to Africa



Small Groups (average 6-8 participants)

Intelligent Pace

4-wheel-drive Vehicles
Flexible Itineraries

Traveling Reference Library

Off the Tourist Loop
The Best Parks

Private Game Reserves

Private Camps and Preserves
Nature and Bird Walks

Animal Tracking
Horseback Riding

Camel Trekking

Fly Fishing on the Equator
Extended Stays at Many Spots

Cultural Encounters

Photography Instruction


All safaris led by Chris or Jim or both the McLartys

Please ask about private and special-interest trips
What our alumni say about our safaris:

"As a woman traveling alone, I really appreciated the care Rafiki took in making sure I had the trip I'd dreamed of and more."

"We feel that we 'lucked out' and did it right the first time."

"I'd recommend you to anyone who calls for a reference. Wholeheartedly. Enthusiastically. Unreservedly. Asante sana, sana (thanks very, very much!)"

"This was our third trip to Africa, and the best by far. Our day with Anna Merz and the rhinos was an unforgettable experience."



UPCOMING RAFIKI SAFARIS
We generally schedule accompanied safaris July/August, September/October and February/March each year. We can arrange private safaris any time of year for parties of two or more. We enjoy planning trips for families and school groups too.
---

Give us a call
Please don't hesitate to call us to chat about our safaris. The Web is great, but we believe you should talk with the people who are going to lead your trip of a lifetime. We will also be happy to put you in touch with some of our safari alumni-they can tell you exactly what it's like on a Rafiki Safari. We suggest that you get as much information as you can from other tour operators, too. We truly believe that the more information you have, the more you'll see that a Rafiki Safari really is exceptional.


---

Let us send you more information
We've provided a form that you can fill out and send to us, by mail, fax or email. Please use it to request more information on our safaris or our large selection of Africa-related books.

---
Rafiki Safaris
45 Rawson Ave.
Camden ME 04843
207-236-4244
FAX: 207-236-6253
jim@rafikisafaris.com
---